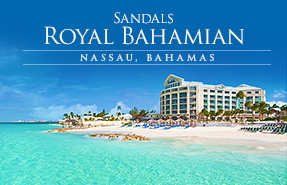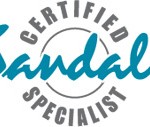 I have been a Certified Sandals Specialist since 2005, however, I had never actually been to a Sandals property.  When the offer came to update my certification at the Sandals Royal Bahamian Resort I jumped at the chance.  Three days in the Caribbean at an all-inclusive resort – count me in!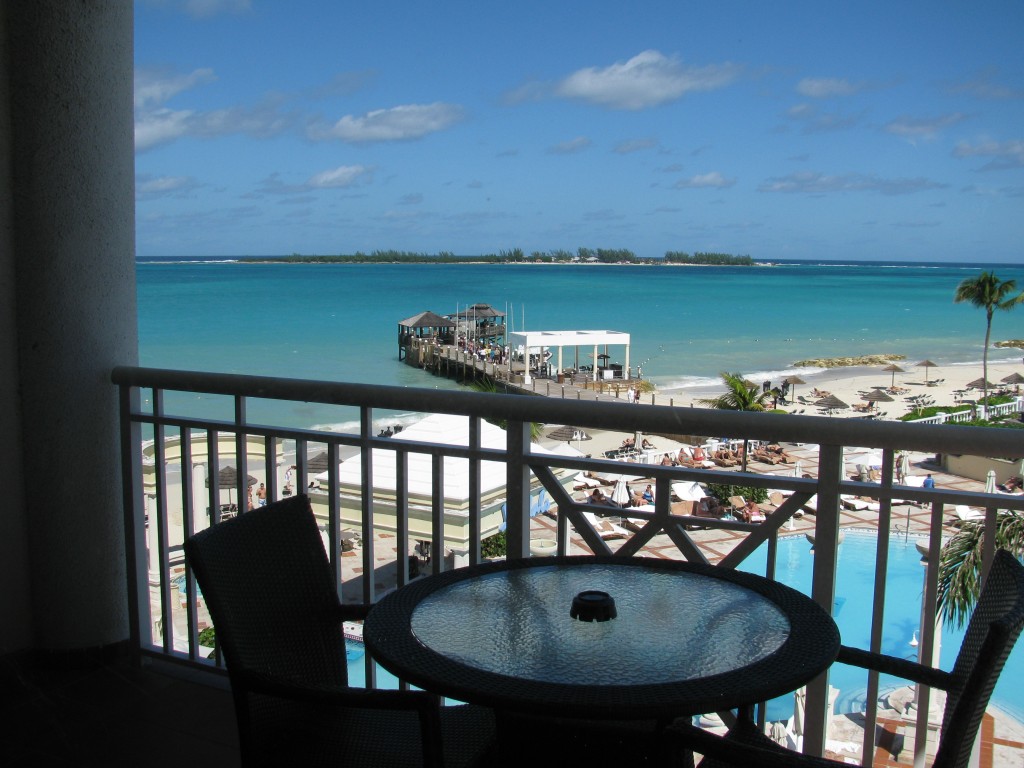 My previous vacation trips to the Bahamas had been "OK" experiences so I was prepared for this trip to be just OK as well.  Having been a traveler when I had a corporate job and having been on my share of vacations I know not to get too excited before I reach my destination as you never know what you're going to find at a place you've never been.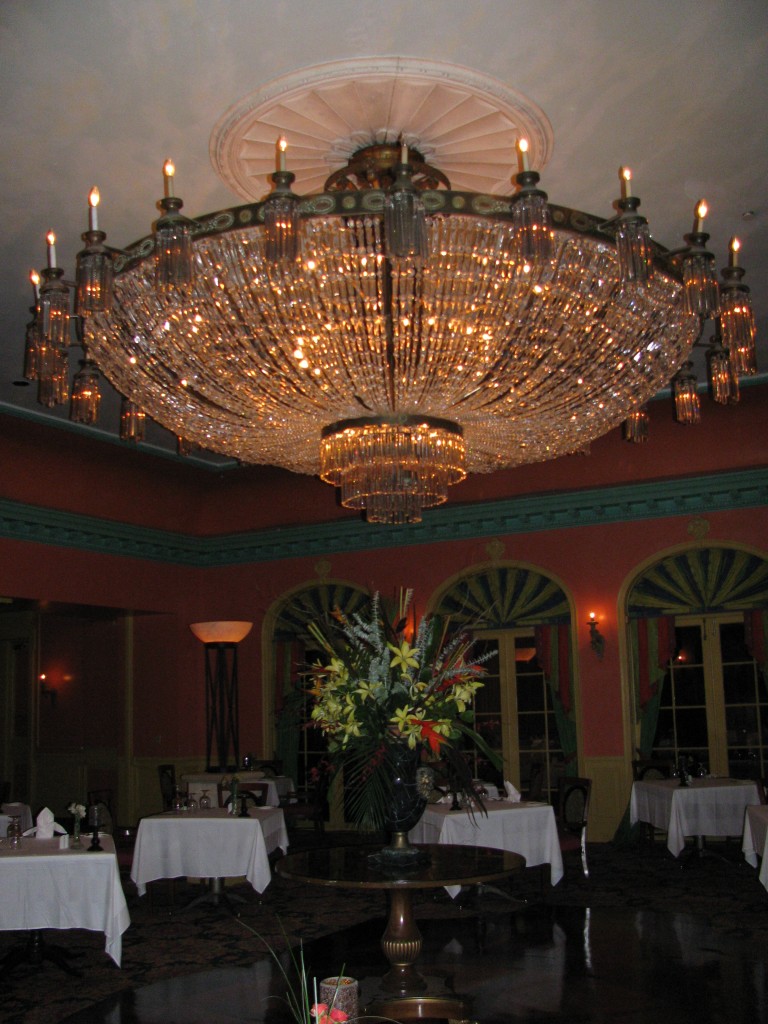 Let me tell you why this trip to Sandals Royal Bahamian was more than just OK and why I'll be renewing my Sandals certification at a different resort each year!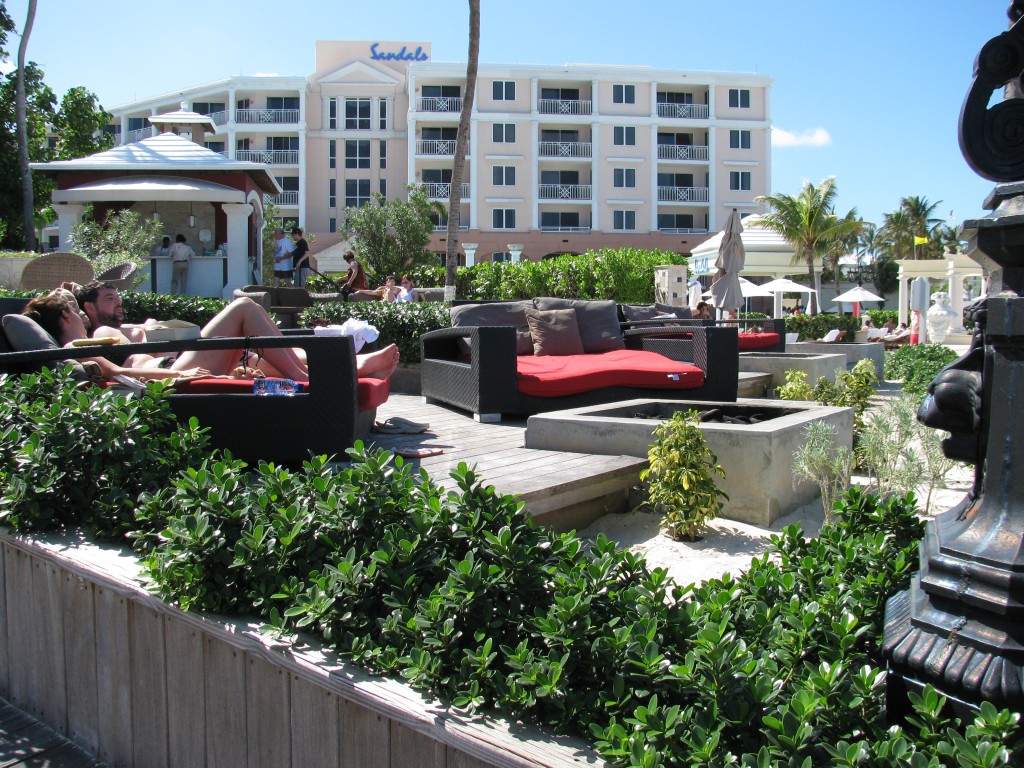 Upon arrival at the airport you'll go through Immigration (the flight attendants will give you a form) then pick up your bags before going through customs.  From there proceed to the Sandals desk on the baggage claim level (HINT:  keep the page they give you in a safe place – there's a safe in your room – you'll need it when you leave). At the desk they'll tag and take your luggage (you won't see it again until you get to your room) and point you towards the shuttle to the resort. They drive on the opposite side in the Bahamas so don't freak out during the 15 minute ride! Shuttle drivers are not Sandals employees so please consider tipping them.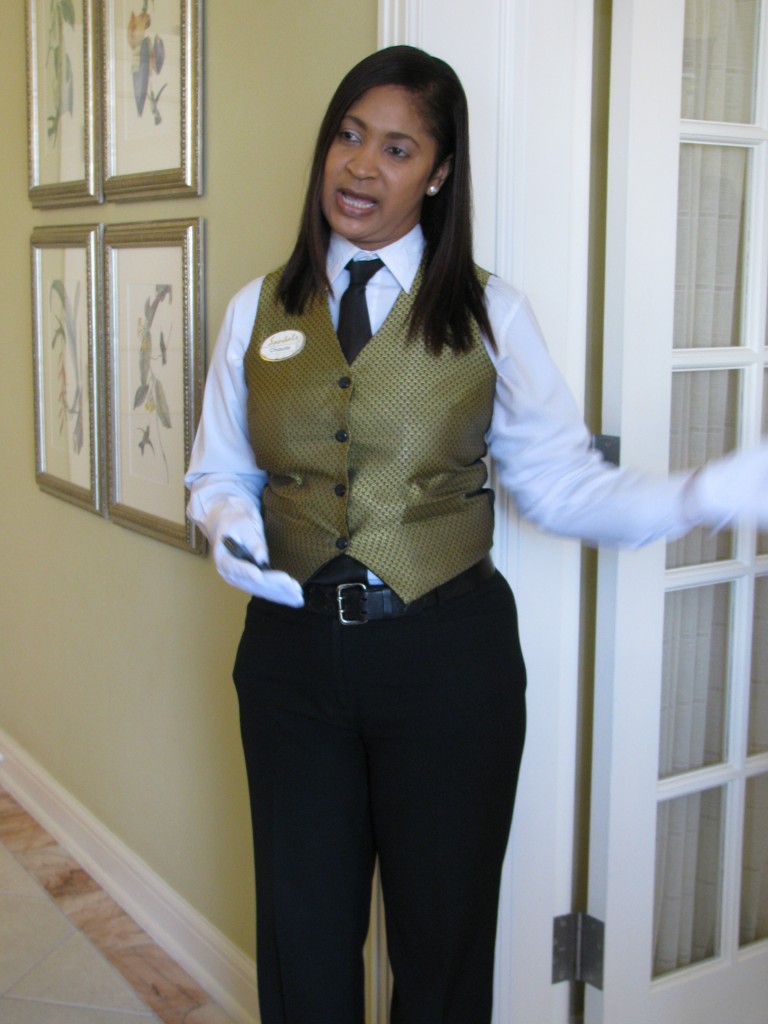 When we got to the resort we were greeted by a bell captain who took our names and indicted where each of us should go for registration (there might be a colored dot on your luggage tag to help with that process). Once on site you don't touch your luggage – it will be brought to your room once it's ready.  (HINT:  Bring a carry on with your bathing suits, hats, and suntan products <3 oz or smaller> or get them out of your suitcase before you go to registration – if your room is not ready they have places to get changed so you can relax while you're waiting). A lovely woman offering a glasses of champagne or rum punch came around seconds later.  About the same time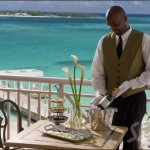 we arrived a Rolls Royce pulled up with newlyweds who were smiling from ear to ear!  The Mercedes and its well dressed driver were just sitting there waiting to run to the airport. (HINT:  The Rolls Royce and Mercedes are available to Butler Service level guests. This level of service comes with lots of perks including your own private butler, dinners at Gordon's on the Pier, and 24 hour room service).
While at the airport I was VERY fortunate to meet Kay – a Sandals booking agent based in Miami.  She couldn't have been nicer and gave me a complete run down of the property before we arrived. I followed her like a puppy!
She took me to lunch while we waited for our rooms to be ready (check in is usually at 3:00pm and we arrived at about 12:30pm). She asked me where I'd like to eat as there are several choices. I chose the Cassanova Buffet Restaurant over the Bella Napoli Pizzeria (where you can make your own pizza and eat it overlooking the beach) or the Royal Cafe (where you can get salads or grilled items). Cassanova offered a wide variety of foods including a made to order pasta station and lots of fresh fruit. Wait staff brings your beverages.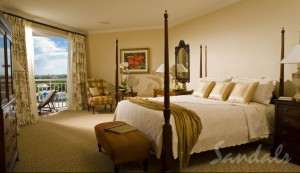 After lunch we went back to registration and our rooms were ready! As we walked over to The Windsor Building (vs The Manor Building or The Villas)  Kay started to explain to me about all the different types of rooms and I can tell you that you want a Club level or higher room.  Club rooms come with a full bar (at no extra charge), room service, and beautiful views.  My  suite on the 5th floor was very spacious with a soaking tub in the bathroom, separate seating area, armoire with TV (most channels are based out of Miami) and great views of the pool and the ocean.  We were left on our own until our first group meeting at dinner in the Crystal Room later that evening.  Since I had a 6:00am flight out of Newark I was tired (and full) and took a nap!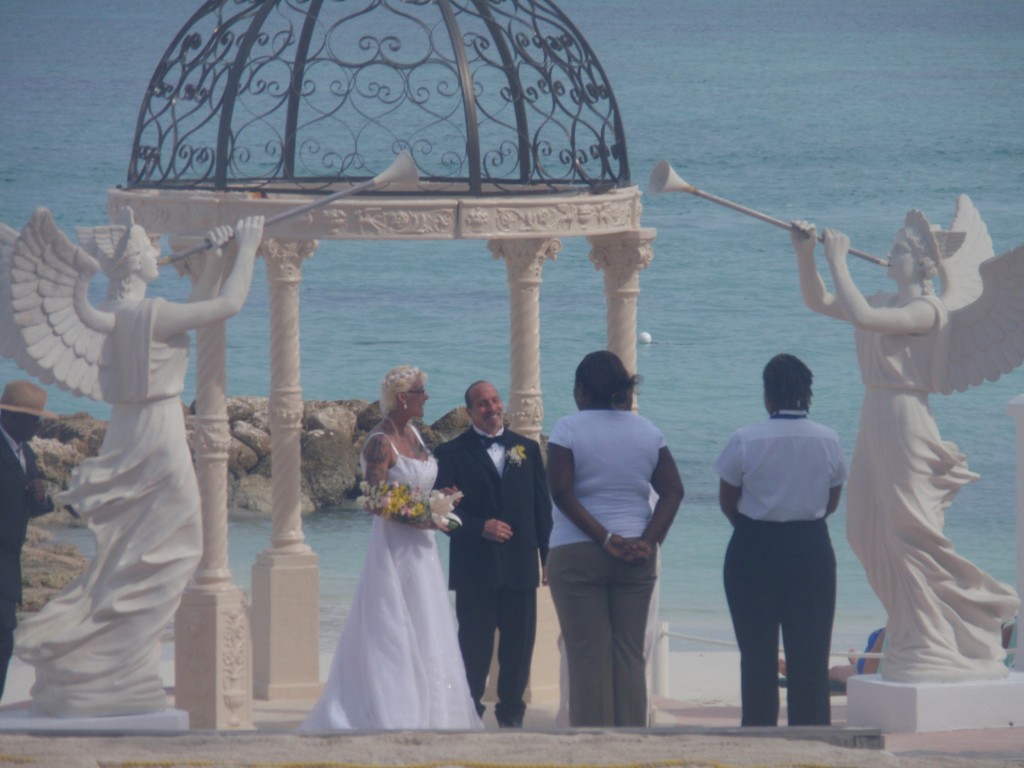 We were a diverse group of ABC members from NJ, TN, LA, IN, FL and 3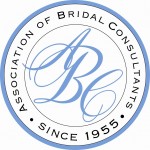 wedding planners from the Bahamas.  A nicer group of people you'll never meet.  Dinner was delicious – the menu had been chosen for us and it did not disappoint. Crab claws, shrimp, conch and oysters for an appetizer; steak and lobster tail for dinner; and bananas foster for dessert. Wine service was continuous and I understand the Goombay Smash was a refreshing drink. Our wait staff was very attentive and we could see that the dining room was full of happy couples. (HINT:  Long pants and collared shirts are required for the men in some restaurants.  Ladies are expected to dress accordingly. Always bring a sweater or shawl – the AC does get cranked up at times).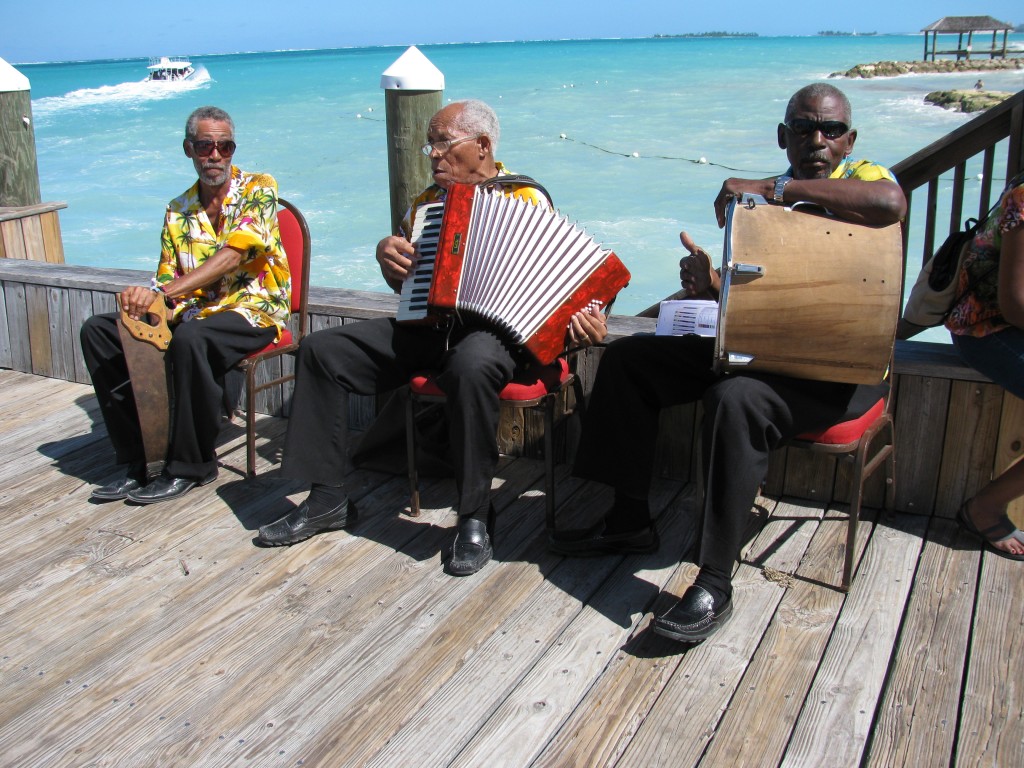 The next day started with breakfast back at Cassanova's before our training session – it's my opinion that this resort has the best breakfast of all the Sandals resorts.  A fresh omelet/eggs to order station AND a French toast station along with the standards. I was thrilled to find bagels (along with a toaster) and lox – one of my breakfast favorites to go along with my egg white and spinach omelet!
After training we took  a walking tour of the venue.
While the Royal Bahamian Resort is a large property it doesn't take long to walk to anywhere you need to go.  The gardens are lush and the main pool is huge with a swim up bar. Comfortable lounge chairs are available as are beach sized towels. Some of the activities that are included: tennis, volleyball, a gym, snorkeling, day time scuba diving, kayaks, Hobie Cat or Sunfish sailing, and aqua-trykes. The beach has recently been made larger (in response to guest input) and also has lounge chairs and umbrellas.
From the pier you can take a shuttle boat to Sandals Cay a private island that offers beaches on either side of the island, a restaurant (open several evenings for dining), and a zen garden and spa.
Speaking of food – there are 10 different places to eat at the resort including an authentic English Pub and Kimonos – a sushi and tepanyaki style Asian restaurant.
Still need to ease the stress of your wedding away?  Try any of many services offered at the on-site Red Lane spa including free use of their steam room and spa pool.
Dinner for our group that evening was served out on the patio overlooking the ocean. Again the menu was chosen for us but I'm not complaining! Zucchini risotto with seared scallop, green salad with crumbled cheese and caramelized walnuts, champagne sorbet, rack of lamb and red snapper for the main course ending with fruited pound cake & wedding cake!
Check out and return to the airport was as stress free as my arrival (HINT: Put your suitcases in the hall the night before you leave if you have an early morning flight to avoid the 5:00am knock at the door). My bag and the shuttle were waiting for me when I got to the entrance and it was an easy ride back to the airport for check in. You'll go through Immigration again and then US customs before you leave the Bahamas so you don't have to go through customs when you get home.
While on site I was surprised to see couples of all ages. While there were many shiny new wedding rings there were also couples of varying ages such as a couple from Spain celebrating their 25th wedding anniversary with friends from England.
WeddingMoon destination weddings at a Sandals (or Beaches, or Grand Pineapple) resort are easy to plan YOUR way. Each resort has an on-site wedding coordinator.
If you're interested in booking your honeymoon at any Sandals resort you can do so on your own through the ATB website or call me!  I'll ask you some questions and then hook you up! If you're the parents of the bride or groom don't you think you deserve a vacation after all the wedding hoopla is over??  Or how about a girls trip – there are BFF trips  or I can help you plan your own! (HINT: You need to be 18 or older to stay at any Sandals property.  The Beaches resorts  are for families with children).
Having been to the Sandals Royal Bahamian Resort for a very short time I can still truly say – "It IS better in the Bahamas!"