Jamaica is home-base to Sandals Resorts.  It's where Mr. Butch Stewart got started with the purchase of his first property, Sandals Carlyle in Montego Bay.  Montego Bay is home to three SANDALS properties – The Carlyle, Sandals Montego Bay, and Sandals Royal Caribbean (with private island).  There are also properties in Ocho Rios – Beaches Ocho Rios (a family resort), Sandals Grande Riviera, and Sandals Royal Plantation (an all butler suite resort also home to Villa Plantana). Two more in Negril – Sandals Negril and Beaches Negril.  The ninth resort in Jamaica is Sandals Whitehouse.  I haven't had a chance to visit the properties in Negril, however, I have been to the other seven.
This blog will focus on Sandals Montego Bay.  You will need a passport to visit Jamaica.  I left Newark Liberty Airport on a direct United Airlines flight of about 4 hours. PLANNERS NOTE:  Be very mindful of the size of your carry-on luggage.  The regulations changed in June 2014.  My bag was taken from me at the gate because it was about 1″ too long.  Check your airline's website for their regulations for carry-on luggage.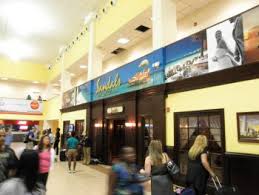 Before landing each passenger is given an immigration card to complete (bring a pen).  Upon landing follow the crowd to immigration.  Present the completed card and your passport (they're going to give you the stub back – DON'T LOSE IT) and then head to baggage claim to pick up your luggage.  From there proceed to the SANDALS lounge to check in.  An attendant will take and tag your bag according to resort and level of room category.  It's the last time you'll touch your bags until they are brought to your room at your chosen resort. The lounge is air-conditioned with clean bathrooms.  There will be complimentary cold beverages (adult and non-adult) available while you wait. Once they announce the shuttle to your resort you'll be asked to identify your bag(s) for transport to the shuttle.  PLANNERS NOTE:  All Sandals and Beaches Resorts have a no tipping policy (except for Butlers and Nannies) once on property.  Prior to getting to the property you should be prepared to tip the baggage handlers at the lounge who take your bags to your shuttle and your shuttle driver as neither are SANDALS employees.
Sandals Montego Bay Resort is about 15 minutes from the Montego Bay airport by SANDALS provided shuttle. Upon arrival you are greeted with cold towels and drinks.  Someone else takes your name and escorts you to the proper check in location.  You might notice that the resort entrance is across the street from the airport departure runway.  As the planes take off all the employees wave good-bye.   While concerned at first the sound didn't bother me after the first 15 minutes. They don't take off all night and you might not even hear the first one in the morning depending upon room location.
Once checked in and a credit card is left of any incidentals (purchases at the gift shop, spa appointments, etc) you will be escorted to your room.  At the room you will be given a brief tour of all the amenities including blow dryer (check the closet) and stocked refrigerator.  If you didn't call ahead with requests now is the time to speak up about what you'd like to see in there during your stay.  I was given a Oceanfront Honeymoon Walkout Club Level Room (category WW) in the Almond Village.  A few steps away from my patio door was a hot tub and deck overlooking the ocean that was very peaceful.  The room was spacious and well appointed.  A plate of chocolate chip cookies greeted me along with a fridge full of bottled water, juice, beer, wine, and champagne.
The Sandals Montego Bay resort is the ONLY Sandals resort with a chapel on property.  If you want a destination wedding with a true Catholic ceremony, one that will be recognized by the Roman Catholic Church, then this is the resort for you!  There are many other locations on the property for wedding ceremonies and receptions including the beach and various patios.  On site wedding coordinators will help you with every detail including the official paperwork for your marriage license!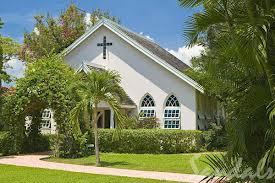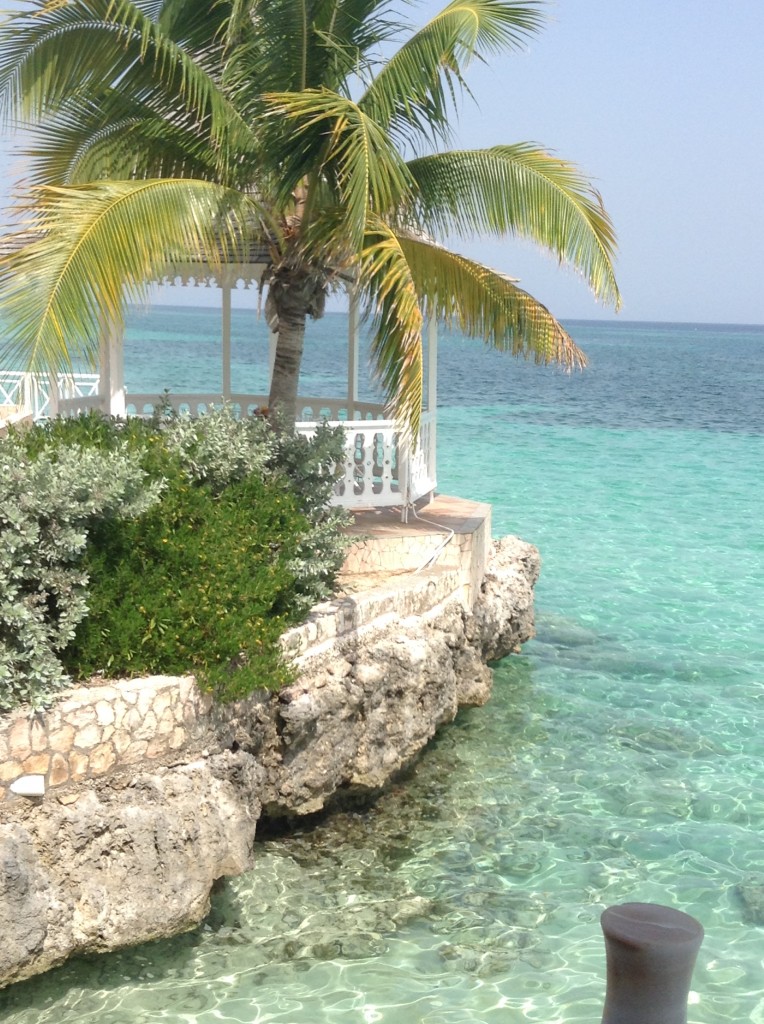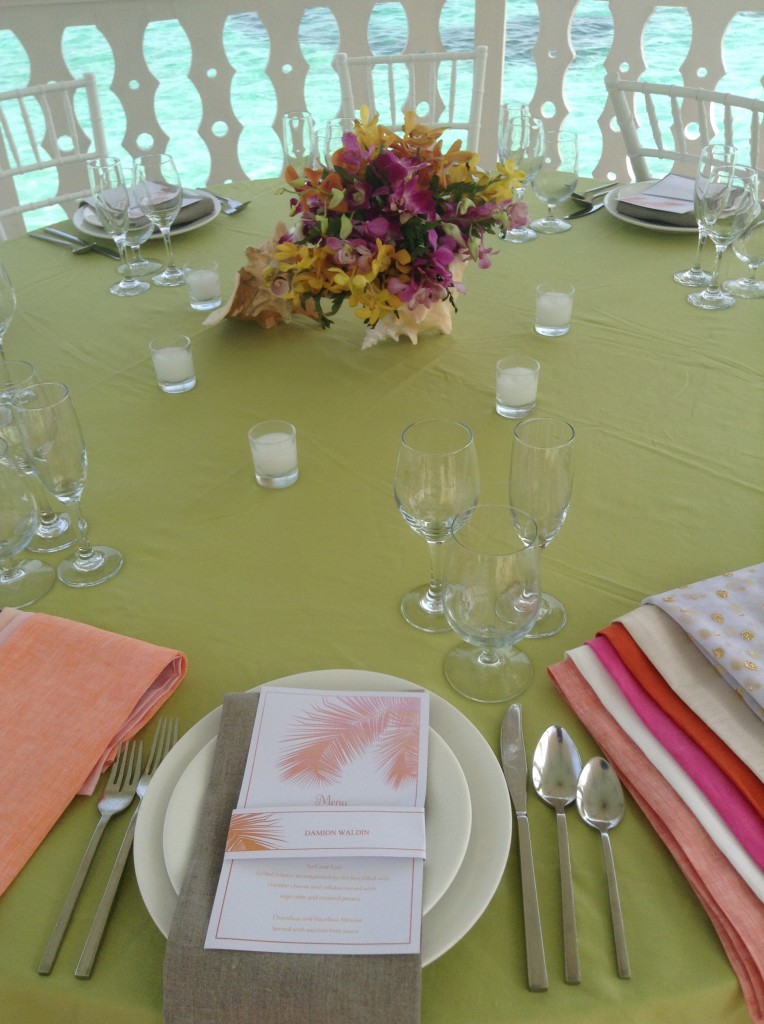 Our first evening the group met for dinner at Cucina Romana. The service was excellent and the food delicious.  Several in our party ordered more than one appetizer, more than entree, and more than one dessert.  Go for it!  It's all included.   The restaurant is located upstairs and there is no wheelchair accessibility.  If your table is by the windows you have a beautiful view.   There are eight dining options onsite not including a weekly resort beach party that included a Caribbean BBQ buffet, rousing entertainment, and games on the beach.  You can make reservations for candlelight dinners on the beach or pier at an additional charge.  Our 2nd and last night in Montgeo Bay we ate at Oleandar.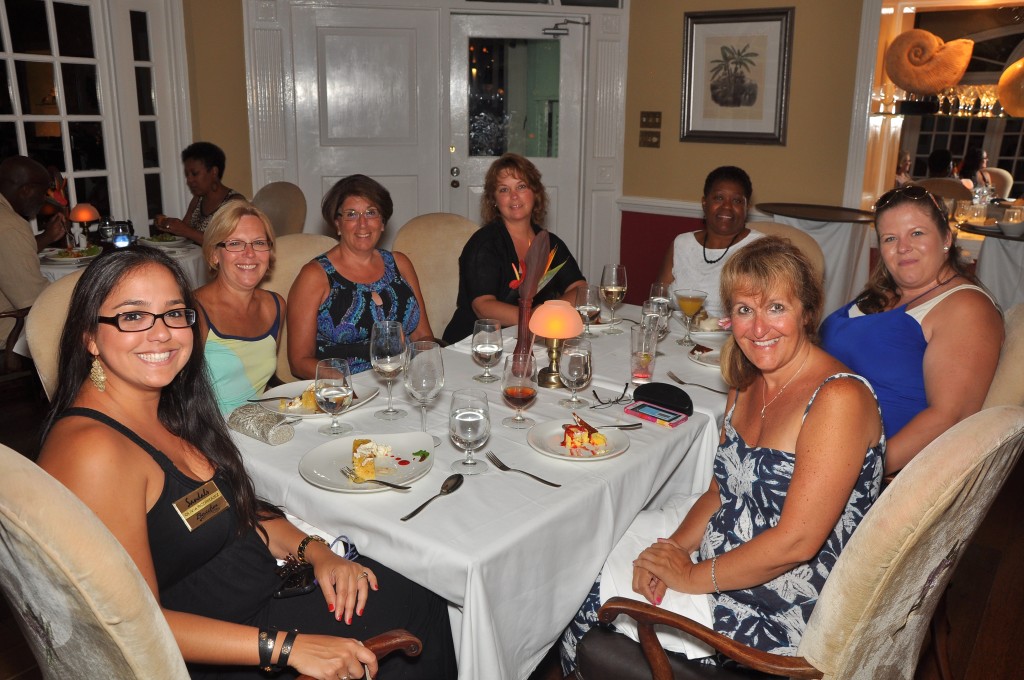 The next morning after breakfast at the Bayside Restaurant (buffet with made to order egg station) we toured the property which includes entry level rooms in the Oleander Building with views of the garden, dining terrace, pool deck or tennis courts (category DL) all the way to the Beachfront Hideaway Prime Minister's One Bedroom Butler Villa Suite (category PM) which includes transportation by private luxury car from the airport literally to the door of your villa.  The amenities at this villa are amazing including a balcony so big you could host a cocktail party on it.  PLANNERS NOTE:  No matter what category your room is you're still enjoying the same beach, the same swimming pool, the same food, the same entertainment, the same drinksm and the same water sports as everyone else.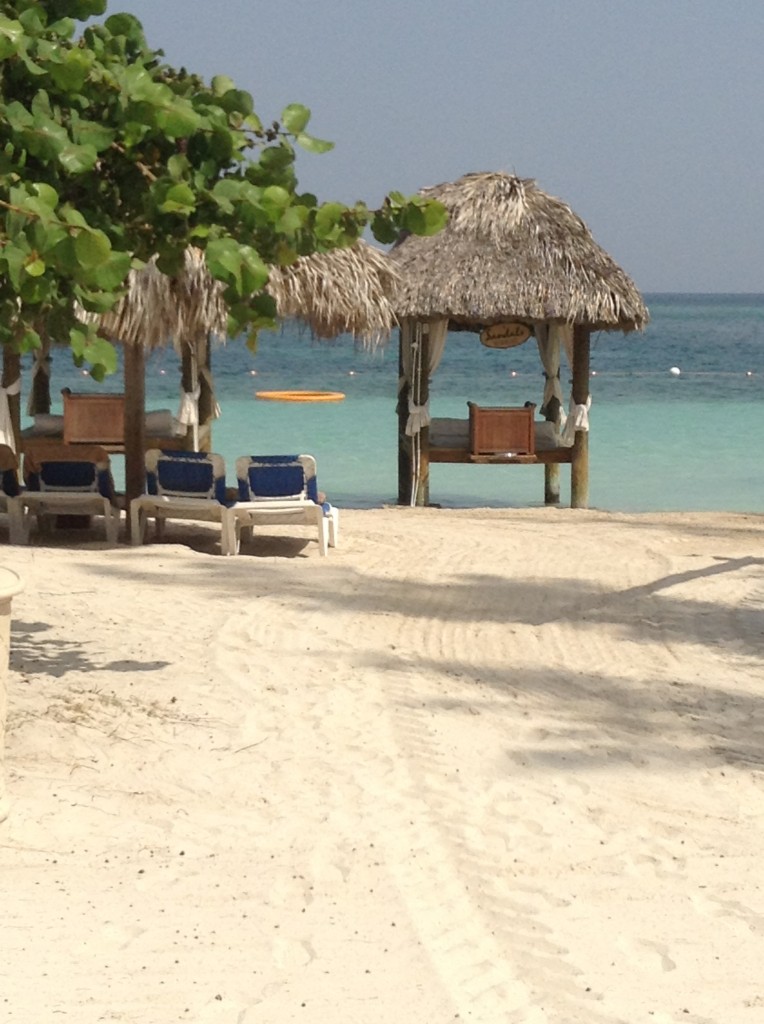 The beaches at the resort are all soft white sand with Caribbean blue water.  There are private raised thatched huts with beds to rent that can include breakfast and lunch service.  There are several piers for private candlelight dinners or wedding ceremonies.  An item that is unique to Sandals Montego Bay is a round orange "raft" that had a mesh bottom.  They were quite comfortable and couples were in and out of them all day.  You can see one in the background of the photo above.  There is also a gym and a Red Lane Spa.  I can attest to the magic fingers of their massage therapists.  Book before you go if you can!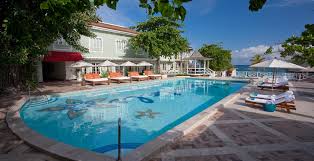 BTW – if you've never done scuba diving but want to try – they will teach you.  Certified dive instructors are on staff and single tank dives for certified divers are included. While lounging at the pool  I saw an instructor take a guest one on one for instruction in the swimming pool because the guest was having a panic attack while trying to breathe with all the equipment underwater.  The instructor was very patient with the guest and after about 20 minutes got the guest to the point where he was comfortable and ready to join the rest of the group.  I can still hear the instructor saying "are you with me mon?" to the guest.
If you're looking for honeymoon or destination wedding resort with beautiful beaches and ease of access from the airport then Sandals Montego Bay could be the resort for you!  ASK ME for details.