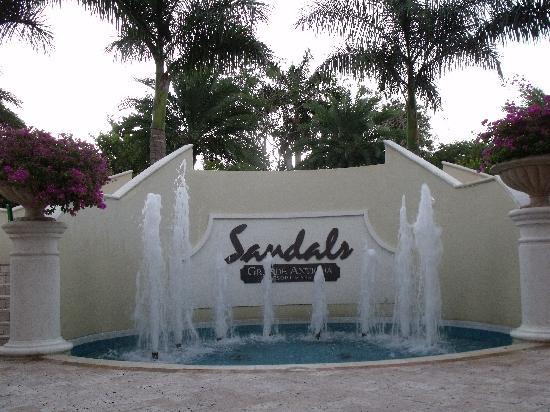 When you arrive at Sandals Grande Antigua  you'll receive a warm greeting, cold towels, and adult cold beverage.

Round trip airport transfers from V. C. Bird International Aiport are included when you stay at Sandals Grande Antigua.  Upon arrival you'll go through immigration (make sure your passport is up to date), pick up your luggage, and head out to the Sandals desk where you will check in and they'll tag your luggage.  You won't see  your luggage again until you get to your room.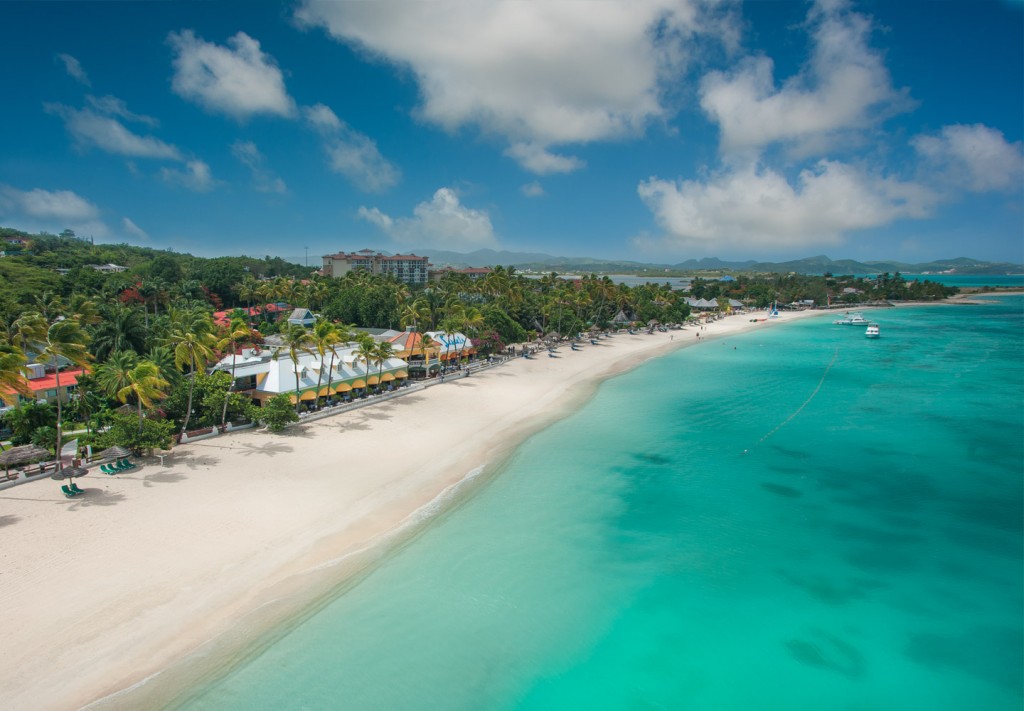 Sandals Grande Antigua has two villages – Mediterranean and Caribbean – and each has their own lobby and check in.  If you've booked a Concierge or Butler Suite you'll be ushered into a special lounge for check in.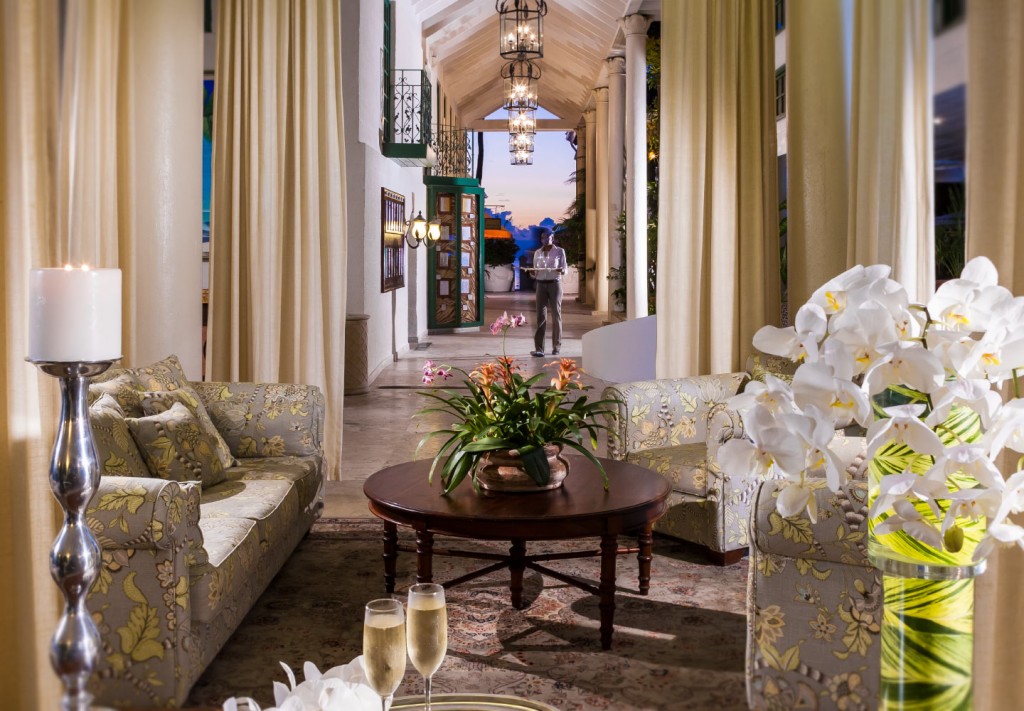 After we checked in we all met for a buffet lunch at the Bayside Restaurant located at the far end of the Caribbean Village.  You won't really know when you've left one and entered the other.  There is one huge main pool and several smaller pools spread throughout the property.  There are 11 restaurants all of which are included with your accommodations.  The map shows you the layout of the property and how easy it is to get from Point A to Point B.  The beach is public but the resort is private.  Be prepared to show your room key card in order to access the resort from the beach as there are security guards stationed at each entrance.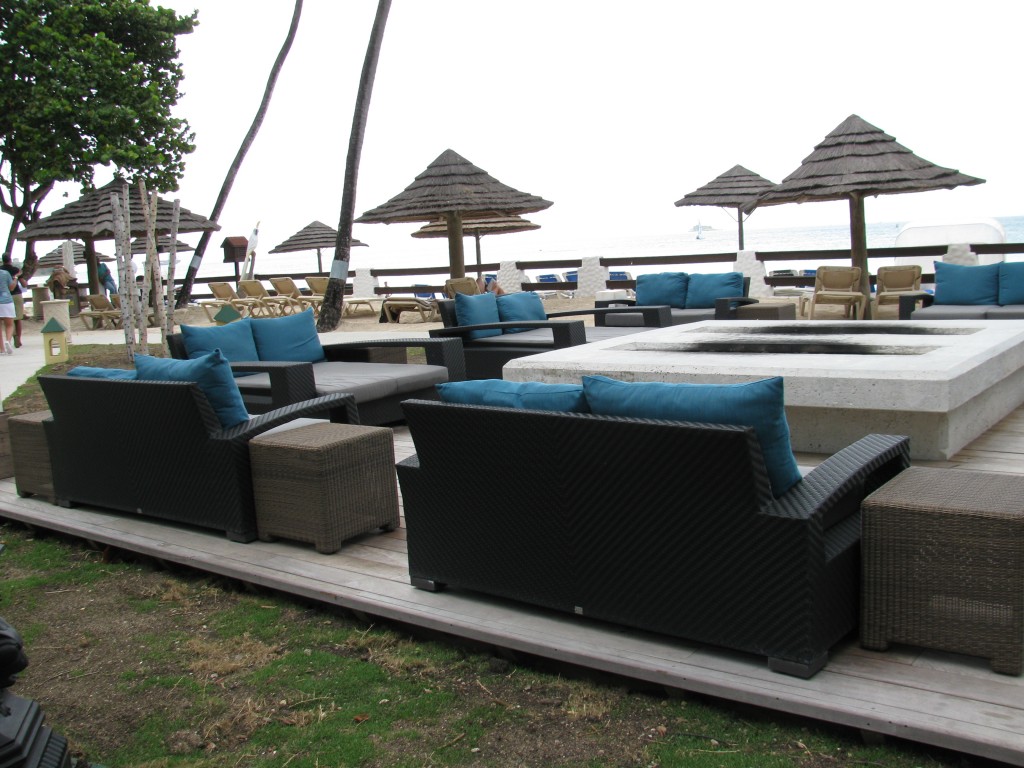 After lunch we took off on a guided tour of the resort including all of the restaurants and a peek at a variety of room categories.  Remember, it doesn't matter what your room category is – you're all eating the same food (Italian, Japanese, custom made pizza, BBQ anyone?), drinking the same beverages, and enjoying the same water-sports and other amenities including the gym and the spa.  If you're at the Concierge or Butler level you have to do very little on your own.  Want dinner reservations?  Call the concierge desk or your butler (Kevin gave me my own cell phone to reach him.  Pressed one button, he answered immediately (and knew it was me!).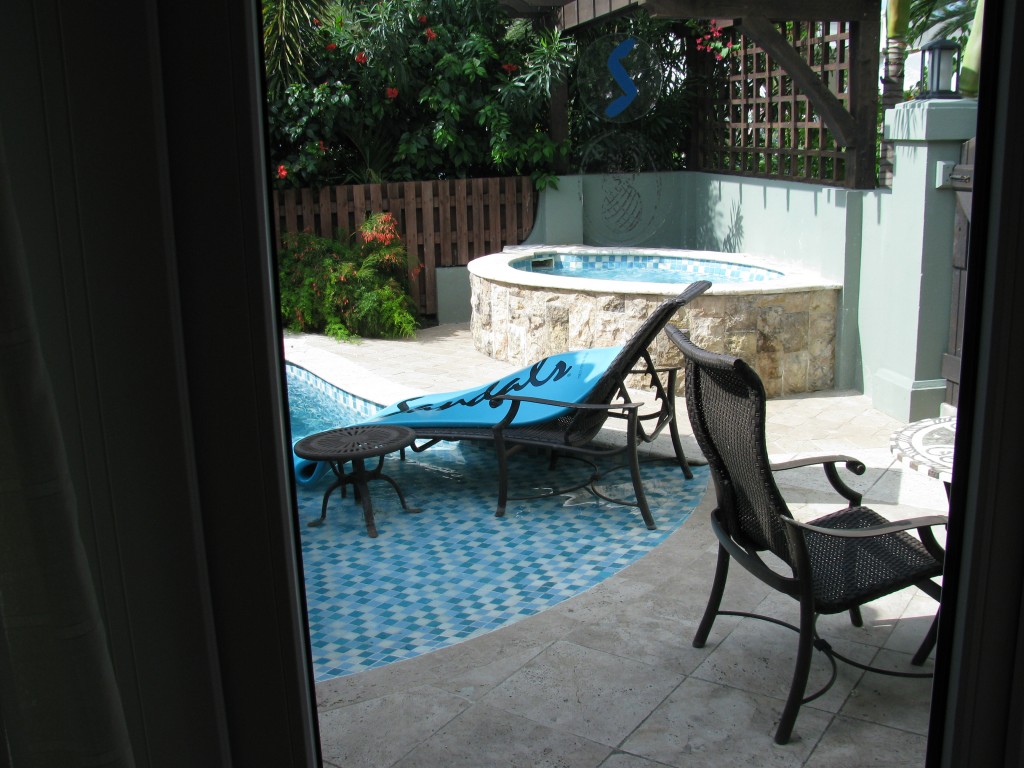 When we were done with the tour we all met back in the main lobby to get our room assignments.  On this trip I got really lucky and was booked into a Butler suite with private plunge pool in the Mediterranean Village.  HOLY COW!  If you've booked a Butler Suite your butler will greet you in the lounge and personally escort you to your suite where you will complete your paperwork.  My butler's name was Kevin and I highly recommend that you ask for him.  He showed me all the amenities of my room including full bar, 2 flat screen TVs, sitting room, and room service.  When he left I immediately took advantage of my plunge pool and jacuzzi.  It was heavenly.  I could have ordered room service but I dragged myself out of the pool, took a shower, and got myself dressed for dinner where I met some of the girls at BAREFOOT and had a fabulous dinner with lots of laughs!  BTW – if the specialty drink of the evening has something to do with seafood don't order it 🙂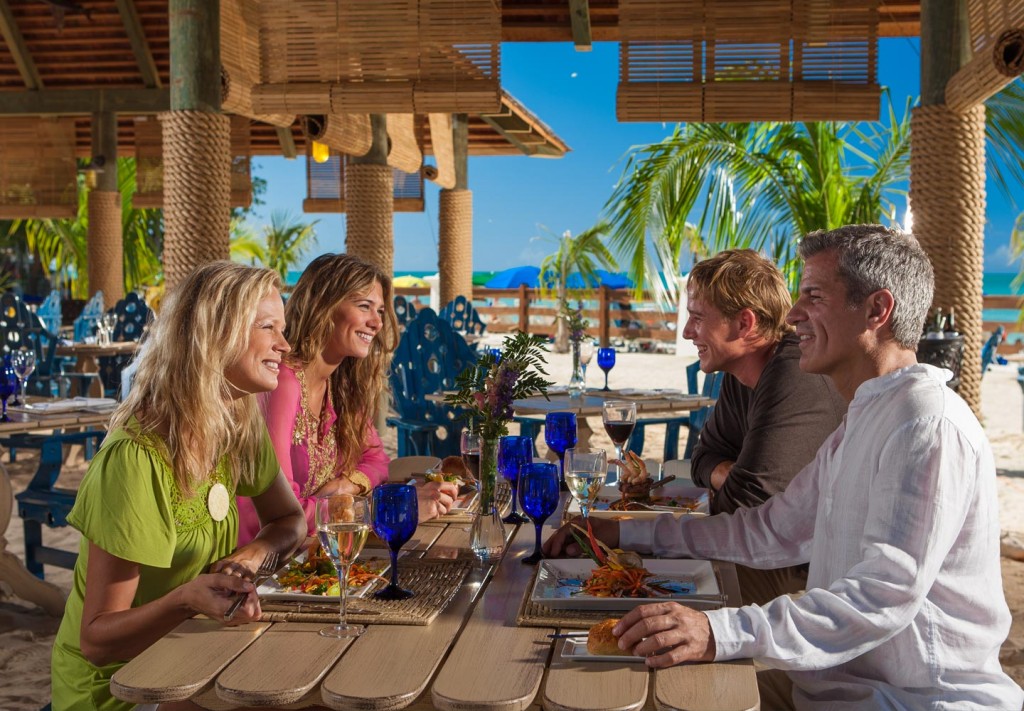 The next morning was our training session in one of their ballrooms.  At the conclusion we were all SANDALS (RE)CERTIFIED SALES SPECIALISTS and celebrated with a Twitter Party hosted by Julie Albaugh.  After lunch at Bayside with some of the girls we were on our own again until dinner.  I went for a jet ski ride.  The jet ski operators are not affiliated with the resort so you're on your own.  Payment is going to be in cash.  There were 2 operators on the beach that day and the 2nd operator (outside the Bayside Restaurant) gave me a bit of a discount for 30 minutes.  This was more than enough as you can't go very far.  The beach has a bluff on each end and there is some kind of rock island way far out.  That triangle is as far as you can go.  Towards the end of my ride I saw a young man exercising a horse in the water off the beach to the right of the resort (as you face it from the beach).  Apparently he's there everyday.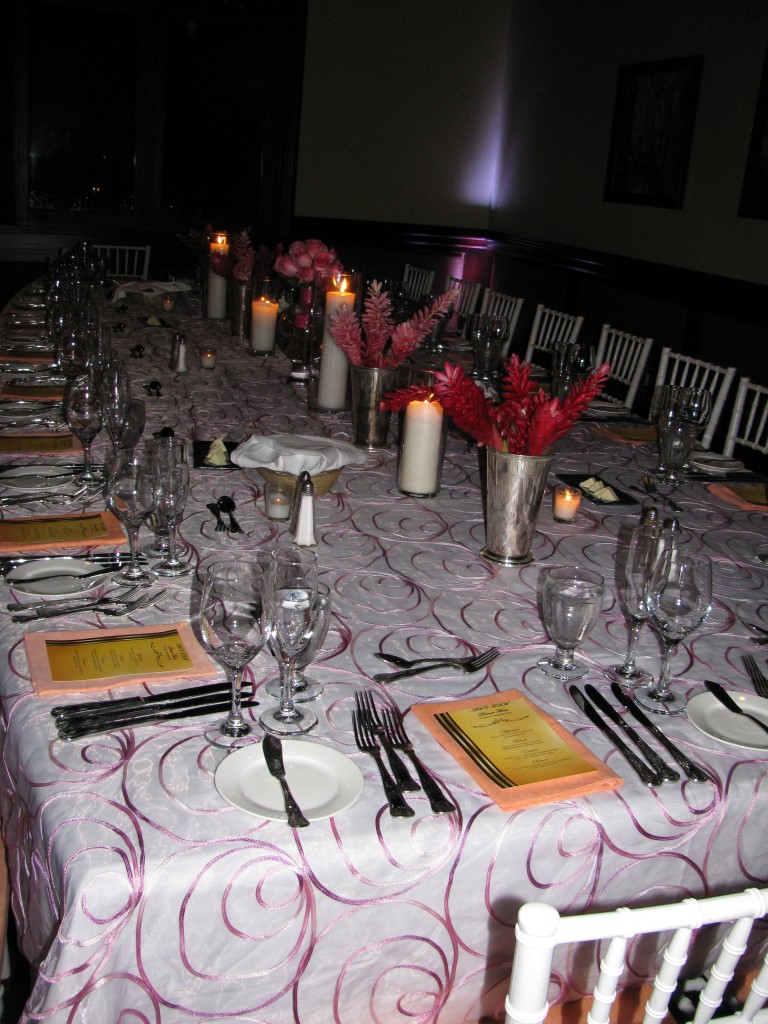 After the ride I went back to my plunge pool to relax and then it was time for dinner.  We were supposed to dine alfresco but the rain did us in again (you're in the Caribbean – it could rain everyday, however, it's usually never a wash out).  We dined in the conference room at one long wide table that was set as if for a wedding.  The menu and the service were outstanding.  The steel drum band that greeted us for cocktail hour was excellent.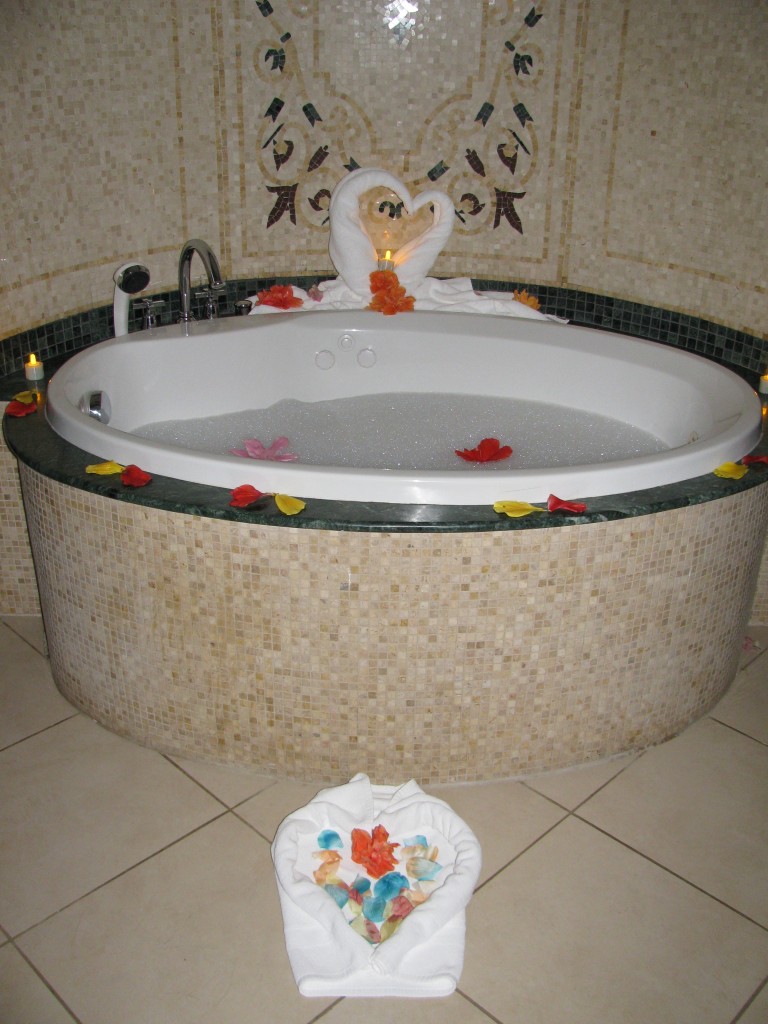 There was lots to do after dinner and some of the group took off to enjoy karaoke or more drinks at one of the bars.  I punked out and went to bed.  When I got back to my room the doors to the bedroom were closed.  When I opened them there was a bubble bath decorated with flower petals.  Could not believe my eyes.  It was so relaxing that after a long day I had no trouble going to sleep.  After breakfast the next morning we were off to the airport.  Kevin came to help me pack and take my bag.  I don't know how they got me to go home.  If you do have a Butler it's the only tip you'll need for the entire trip (except for the airport shuttle drivers) – figure $20 per day or $150 for a week You can always give more.  The service will be exemplary.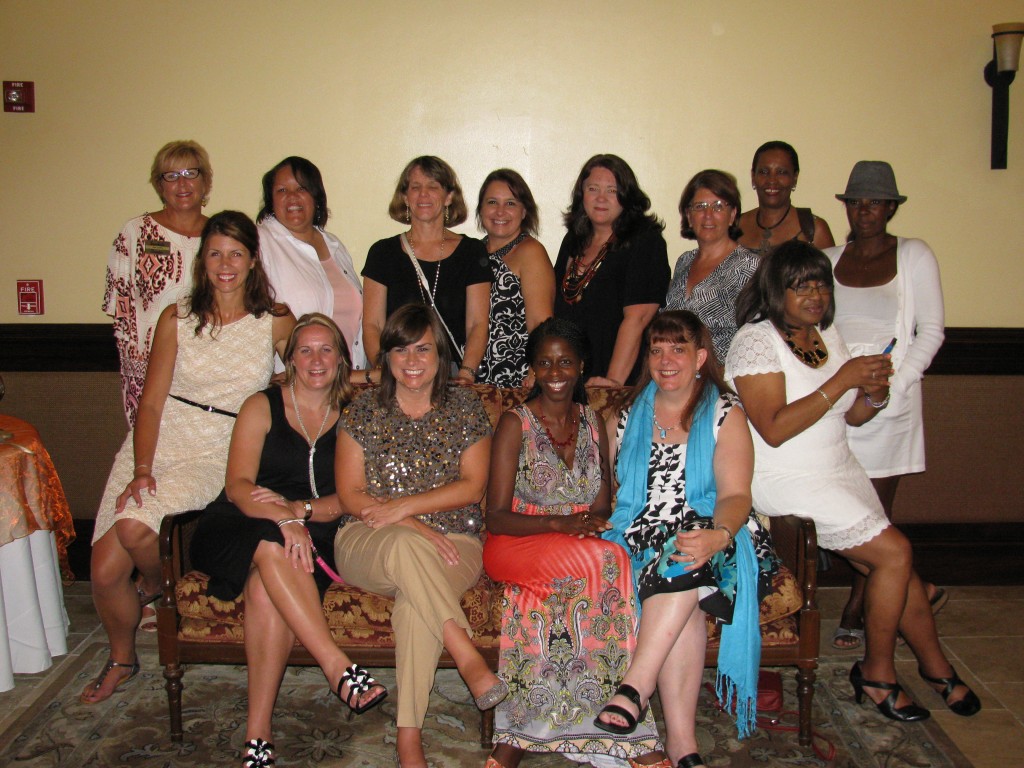 SOME NOTES:  I've visited a few Sandals resorts including the gorgeous Sandals Emerald Bay.  Sandals Grande Antigua certainly is comparable.  This resort has lots of options for corporate meetings, incentive trips, family reunions, and destination weddings of any size both indoors and out. SANDALS resorts are ADULT COUPLES ONLY and the minimum age is 18.  If you've got singles or young adults/kids consider one of the BEACHES properties.  If you're hosting a destination wedding or other event (sales meeting, incentive trip) there are a small number of rooms that can be made available for single adults.  Details available upon request.
What strikes me about SANDALS as a brand is the loyalty of their employees.  The majority of the ones that I have spoken to have been with the company for years and plan on staying for many years to come.  Some waiting several years for an opportunity to work for the Stewart family.   Employees from the housekeeping staff and beach attendants to the resort manager are always smiling and greeting guests as they pass by.  They never seem to sweat.  Their social and corporate planning office on each property is ready, willing, and able to tailor their services to your needs.  Sandals has recently overhauled their entire wedding planning department so that now brides have a choice of the colors and styles that THEY want not what a famous wedding planner thinks they want.